- Click here for the NMC Shop page
(You can also buy or renew your NMC membership!)
The National Mullet Club ("NMC") was founded in 1975 with the aims of promoting interest and efficiency in the sporting capture of the three species of mullet found in British waters, and the conservation of these fish.
Since its inception the NMC has adopted an enlightened attitude to conservation, for example encouraging members to return mullet alive by accepting catch reports on trust. In the light of increasing exploitation of mullet by both commercial concerns and sport anglers, our members are encouraged in the strongest possible terms to practice catch and release at all times and are reminded that the commercial sale of mullet is incompatible with membership of the NMC.
Membership is made up of anglers of all abilities, from the very experienced to those yet to catch their first mullet.
The backbone of the NMC is the bi-annual journal "Grey Ghost", usually produced in Spring and Autumn. The club also regularly distributes newsletters through the summer months, and send out a regional membership address list each spring to enable members to get in touch with each other when then plan on fishing new areas.
The NMC organises "fish-ins" at locations around the country, offering the chance to pursue mullet in different surroundings in the company of experienced anglers. If you need help, guidance is always at hand in the form of a good local fisherman who should be willing to show you around.
The club awards gold, silver, bronze and platinum certificates as appropriate for particularly noteworthy mullet of any of the three species. These are run via monthly report sheets returned to our catch recorder. There are also various trophies for the best specimens caught throughout different regions during the club year.
Membership of the NMC can be obtained by returning the enclosed application form (see the link on the left), together with payment. Cheques should be made payable to "National Mullet Club". You may also use the form to order cloth and metal badges, baseball caps, and "Mastering Mullet" - a 40 page guide to thick lip fishing by expert mullet angler Phil Hazell.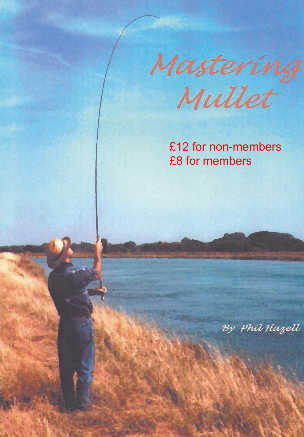 If you require any additional information, please don't hesitate to contact us, using the email links below.
Membership Enquiries (Paul Howe):-Email
Webmaster (Paul):- Email